February 11, 2013
On the San Francisco Peninsula there are 14 active and 16 pending sales in Burlingame. Low inventory continues to be a problem everywhere. It is amazing how agents keep coming up with properties to sell to their waiting "pent up" buyers. Our Burlingame office just had 50 offers on a pair of fixer properties in San Mateo, which sold all cash substantially over asking price. There is little new inventory coming on in Hillsborough, however the high end is starting to show movement with four properties over $10 million and two over $5 million now in escrow. This is very encouraging to see high-end buyers actively in the market. Our Palo Alto manager says the inventory is even scarcer (if possible) than last year – while the demand is higher. Lack of inventory is the biggest concern for agents and clients in the Redwood City-San Carlos area. Agents are working in a wider area in order to find properties for their buyers. In San Mateo, our manager sees a slight increase in listings. Homes that are off-market coming back on the MLS in the Woodside and Portola Valley area. Sales have picked up over the past two weeks. Everyone has lots of buyers – not too many sellers yet.
October 26, 2012
 In the last year alone, we've seen inventory in San Francisco drop 62 percent from 2,003 units to just 758 units for sale; while the price has climbed 27 percent, as this chart shows:
By now it's clear that this will not be an easy economic recovery. For every two steps forward we take one step back, as this week's mixed economic signals show.
On one hand, it was good to see improved GDP growth figures announced Friday. The U.S. economy grew at a better-than-expected 2 percent annual rate in the third quarter, the Commerce Department announced. That's up from a 1.3 percent growth rate in the second quarter.
The improvement was driven in part by greater consumer spending, but also defense spending and the government sector. Many analysts cautioned that the economy is still facing significant headwinds and warned that GDP isn't likely to climb much above this level through the coming year.
On the bright side, real estate continues to be one of the better performing sectors of the economy, as the recent Bay Area housing report from DataQuick reaffirmed. The La Jolla-based real estate research firm reported that Bay Area home prices last month rose to their highest level in more than four years and attributed it to a slowly improving economy, low mortgage interest rates and shifts in market mix.
The median sale price for all new and resale homes in the nine-county Bay Area rose to $429,000 in September, up 17.5 percent from a year ago. It was the highest since August 2008 when it was $447,000, according DataQuick.
Additionally, sales continue to climb steadily. A total of 6,850 new and resale homes were sold in the Bay Area last month, up 1.5 percent from 6,749 for September 2011. And the mix of homes is encouraging with a continued decline in the percentage of foreclosures and distressed sales and a steady increase in "regular" sales and transactions in the middle and upper ends of the market.
"It's obvious that a lot of fence-sitters are getting active," John Walsh, DataQuick president, said in a statement. "We're probably past that most attractive of mathematical sweet spots, the one that combines low interest rates and low prices. In other words, price increases the past few months outweigh mortgage rate declines."
What was particularly interesting to me is that higher-priced markets around the Bay saw the biggest uptick in sales. San Francisco led the way with a whopping 23.3 percent increase in sales volume, followed by Marin County with 12.1 percent, San Mateo with 7.9 percent, and Santa Clara with 2.6 percent.
Those sales volume gains were offset by declines in less expensive markets in our region, including an 11.4 percent drop in Solano, 5.5 percent decline in Sonoma, and 1.9 percent in Alameda. Contra Costa was up fractionally while Napa was 1.6 percent higher.
In the last year alone, we've seen inventory in San Francisco drop 62 percent from 2,003 units to just 758 units for sale; while the price has climbed 27 percent, as this chart shows:
Silicon Valley has seen the same trend with Santa Clara County inventory down 66 percent over the past year and the price up 31 percent.
Of course, in this choppy economic recovery we continue to expect setbacks. And Wall Street has given us those in recent weeks. The majority of companies reporting earnings this season are announcing they have fallen short of forecasts. The market has responded to the disappointing numbers with the Dow off about 4 percent from its peak level and hovering just about 13,000.
With the upcoming presidential election and the impending "fiscal cliff" staring us in the face, I suspect we'll see more volatility in the financial markets and the economy in the weeks and months ahead. But all indications are pointing to a continued healthy, if not robust, housing market.
May 14, 2012
In case you missed the news, markets are starting to pick up, which means more home buyers are likely to get off the sidelines. But, given the lack of good inventory in many real estate markets, there are more buyers than properties.
The result? Multiple offers are making a comeback.
The days of bidding wars, with several offers over the asking price, are probably gone in most markets. But buyers in certain markets are likely to see competing offers under the listing price. However, with that said, in the Mid-Peninsula area of the San Francisco Bay Area we are seeing many multiple offers and all are over asking. In Palo Alto, we had a home with 28 offers and another with 18. In San Carlos, another HOT spot we are seeing multiple offers all over asking and sold in a few days.
Here are three strategies for buyers to follow when the home they want has received other offers:
1. Don't over-analyze the other offers or the listing agent
After multiple property viewings and interacting with the seller's agent, by you at an open house, or your agent, the listing agent tells you there's another offer on the property. Your reaction: "Really? Are you kidding me?"
Take the listing agent's word for it, but only use that as one data point. Don't spend too much energy trying to figure out what's really going on with the other offers. If you love the property, keep moving forward, but at your own pace. Make the offer you're comfortable with, and only when you're comfortable making it. Don't feel pressured to make an offer in order to compete, especially if you're not ready to put in a bid.
2. Focus on your negotiations with the seller
Sometimes, the listing agent will say that the other offer is a better price, has a larger down payment or a quicker close. Who cares? The seller will still be looking at and working with your offer when considering their circumstances. For all you know, the other offer may be a horrible "low ball" offer or from a buyer who isn't pre-approved for a loan or from an out-of-area agent who is unfamiliar with local customs and protocols. Or the buyer may have made the offer after only seeing the property once.
Even though there are other parties making offers, don't get distracted by them. Stay focused on your own negotiations with the seller. Remember: You're not negotiating with another buyer, and trying to do that will drive you nuts.
3. Present yourself and your offer in the best possible light
Most people make a decision about whom to sell their home to based not just on price but on the whole package. Who are the buyers and what is their level of interest in the home? What's the price they're offering? How many contingencies are they asking for and what are the timeframes of each? What is the down payment amount and length of escrow.
Consider writing a note of introduction to the seller with your offer or ask that your agent do so. Be sure to present a pre-approval letter with your offer too. This is a no-brainer in demonstrating to the seller that you're a qualified buyer and you've taken the time to get approved for a mortgage. As an agent myself, I always include a separate sheet that highlights the important items in the contract in a nutshell as an over-view.
Finally, put your best foot forward with your earnest money deposit. While there are customary ways of approaching earnest money deposits in each real estate market, putting up only a few hundred or only a thousand dollars may give the seller the impression you're not that serious. If you can put up the full 3 percent, do it. It shows you mean business. Don't forget this money is refundable should something major come up, and your contingencies protect this deposit.
Ultimately, keep in mind that the sellers are probably embarking on a major life change. They may be selling due to a job transfer, new baby, or the need for more (or less) space. It's a huge decision for them, and receiving an offer can be as exciting as it is nerve-wracking. So lead with your best offer and don't wait for a counter because there might not be one. Be patient and understanding. See what happens. If you don't get the property, learn from the experience and move on. Who knows? You may find something even better.

April 13, 2012
You have to check this awesome photo out….
My daughter,  Lizzy and I were driving home from up north of where we live last evening, not a good night to be out. Lizzy is good at driving in the torrential rains, which is actually a surprise for me.
Since in my younger days… when I flew for TWA, I remember being in a high rise hotel with other CA flight attendants and they all came running into my room.  I actually thought we were having a bomb scare. Not to be. They were just afraid… None of them had experience the thunder and lightening that we just had.
I was at the office today and everyone was talking about the lighting and I said, "it is just like being at home", another lady said, "just like being in Pennsylvania"…. I think we experience a lot growing up in the Midwest or East Coast and we are so grateful to be here. On the same note, I think we take our beautiful weather for granted.
For me, it is a joy to live here and not shovel snow, or freeze to death trying to dig my car out of snow in the parking lot, so I can drive home. And, I love flowers, we have that one all the time, don't we?
February 17, 2012
If you or anyone you know needs food, housing, health care or other services, just call 211 from any phone.
The toll-free number connects callers to people who can link them to services. It's a one-stop referral service with a mission to connect people with the help they need. The service is new to San Mateo County.
To provide the service, San Mateo County and the Community Information Project have teamed up with United Way of the Bay Area
211 is confidential and available 24 hours a day in more than 150 languages.
Problem dialing 211? Call 800-273-6222 (TTY 415-808-4440 or 711)
Visit 211bayarea.org for more information about 211 services throughout San Mateo County and the entire Bay Area.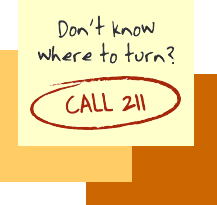 October 26, 2011
In San Francisco this prime piece of San Francisco real estate was built by silver mine tycoon Richard Chambers. The story goes that Richard moved into the home with his two nieces, bringing with him a host of demons and ghosts with him. When Chambers died in 1901, the nieces inherited the home; one moved next door and one, Claudia, stayed in the home.
Claudia was discovered nearly cut in half one day. The family passed it off as a "farm implementation accident" but ghost expert Jim Fassbinder, who conducts haunted house tours in San Francisco, claims an insane family member who was kept in the attic of the Chambers home was the culprit. Recently a bed-and-breakfast, the home sold in 2009 for $3,400,800.
October 16, 2011
Yesterday at the Redwood City "Oktoberfest" was a complete blast. The one thing that was especially fun was watching all the children dance the day away. Boy, if I could bottle up the constant energy. It was so much fun. I meet some friends there and I ended up spending most of the day just dancing and watching all the people. This was a great event for Redwood City. The band was stupendous!
The band was the Internationals, they have played for more than 30 years. They played all national music. The dancers from the Bavarian Club were outstanding.
For more information on the band visit the Internationals website.
October 2, 2011
I had decided to clean out my Mom's bathroom cabinets, which were filled with old prescriptions from the 40's, 50's and on… Needless to say, I am surprised they are still in tact. My Mom still thinks one of these days she will be using them.
In the Bay Area, we are fortunate that our police stations in each city have a disposal bag inside the station. We don't need anymore drugs in our water. I decided after cleaning out Mom's cabinet in Michigan, it was time to do mine when I got back home. I think I need to do this on a more regular basis.
http://www.flickr.com/photos/fdaphotos/5664574925/ Check this out, if you don't have any other way of disposing drugs.
This other flyer also has more info. from the fda. gov site.
http://www.fda.gov/downloads/Drugs/ResourcesForYou/Consumers/BuyingUsingMedicineSafely/UnderstandingOver-the-CounterMedicines/ucm107163.pdf
September 25, 2011
Legendary Menlo-Atherton football coach Ben Parks dies – San Jose Mercury News. So sorry to hear the news of this great man. Imagine the hardship he endured as a child. He became such a great man because of his beliefs and honor. If you ask anyone in the high schools that have met him, he was a man of honor. He helped children with their sport, like no one else could.  I was privileged to meet his son, another great man. The apple doesn't fall far from the tree. I learned a lot from his son, who is also a player, but a life is an example and this family sure had a great one. Ben Parks Rest In Peace!
August 27, 2011
The Mobile Gourmet gathers together the best Gourmet
Food trucks
in the
Bay Area
in an outdoor bistro-style atmosphere that is perfect for families, friends, co-workers,
foodies
and food-truck-gurus alike! 
A great way to pick up some good food for lunch.